Come Sweet Sleep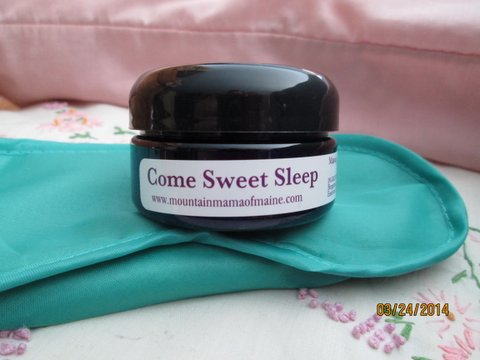 While talking with customers at festivals, I realized how many people were having problems sleeping.
Over the counter and prescription medications have serious side-effects. This salve is applied to your pulse points; temples, carotid arteries on both sides of your neck, wrists, and upper lip. Inhaling its aroma will release anxiety and promote good sleep with no morning after grogginess.
Ingredients: Sweet almond oil, Maine beeswax and essential oils of lavender, rose, hops, chamomile and bergamot.
No alcohol
No dyes
No petroleum by-products
No synthetics
No preservatives
2 oz. jar.
Unsolicited customer comments
"I use a CPAP machine at night for sleep apnea. I put a little "Come Sweet Sleep" on the nasal pieces and it feels so much better to smell something nicer than dead air and distilled water."
"I've been dealing with insomnia for 35 years. Nothing I tried gave me good sweet sleep. Thank you for working outside the box. My husband is using it, too when he is restless and said this morning" it really works". We'll be ordering again soon"