Oh My Aching... 2.75 oz. hands-free stick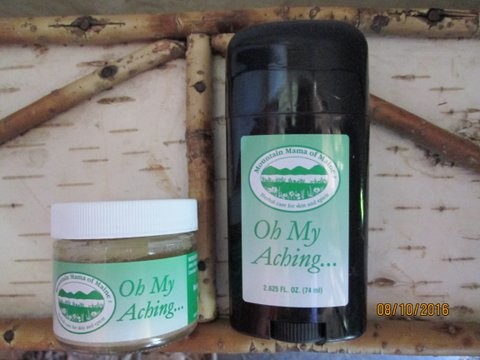 St. John's wort is used for sore muscles, tendons and joints. I harvest my own from my gardens and also wild-gather in the neighborhood. It is abundant in early July. To complement St. John's wort's anti-inflammatory and analgesic (pain relieving) properties, I've added essential oils for the same purpose.
Ingredients: olive oil infused with St.John's wort, sweet birch, lavender, tea tree, wintergreen essential oils, Arnica absolute and beeswax.
Available in a 2 oz. jar or a 2.75 oz. hands-free stick.
The stick is unbreakable and glides right on the affected area. Offers hands-free application.
Unsolicited customer comments
"I love "Oh my aching…" It is helping my bursitis. My rheumatologist liked it , too."
"We are amazed that "oh my aching…" works the best on the tendonitis and aching shoulder.
"I have osteoarthritis. Your remedy is incredible. 10-15 minutes after I put it on I had no pain in fingers and knees."