Soft as a Baby's Behind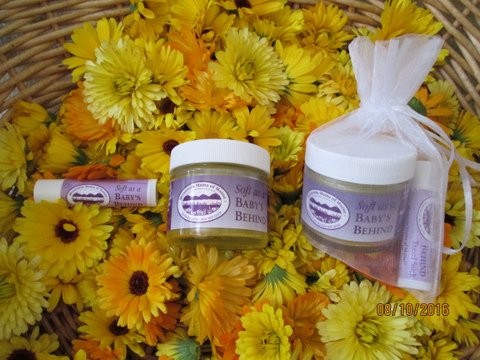 Homegrown and handmade.
From my garden to the jar.
Straight out of my gardens in the western mountains of Maine, skin nourishing plants and Maine beeswax for soothing skin irritations. Four generations have used this for chapped lips, split fingertips, heels and elbows, and dry gardener's hands. Also excellent for bug bites, cuts scrapes, skin rashes and bed sores.
Ingredients: Olive oil infused with calendula blossoms, comfrey leaves, plantain leaves, and beeswax.
No fragrance added
No alcohol
No dyes
No petroleum by- products
No synthetics
No preservatives
Available in a 2 oz. jar, a 0.15 oz. travel stick (perfect for your purse or backpack), or buy together in an organza drawstring bag. A great gift for anyone, especially new Mothers, people who work with their hands and gardeners.
Unsolicited customer comments
"For the first time in my life, I don't have cracked fingers in the winter. I've tried everything, but this works"
" I get lots of small cuts and scratches on my hands at work. My mother works in a machine shop and she gets cracks from the solvents they use. This works like nothing else.
"I have chronic eczema and have had good luck with your salve"
"I burned my arm in the kitchen. Your product is very soothing and it's amazing how quickly it is healing my burn."